Family Law Attorney in Sandalfoot Cove, FL
Sandalfoot Cove Divorce Attorney
Divorce can be a very stressful and emotional time in your life. This can be especially difficult if you and your spouse have children or shares assets. Working with a Sandalfoot Cove divorce lawyer who is an expert and Board Certified can ensure that your rights are protected and that the terms of your divorce are fair.
Most people who seek divorce are unfamiliar with the process and don't know what to expect. Uncertainty can cause additional stress and frustration. It is important to have a Sandalfoot Cove divorce attorney who has a solid understanding of Florida's divorce laws and procedures. Contact Family Law Attorney in Sandalfoot Cove, FL​ today.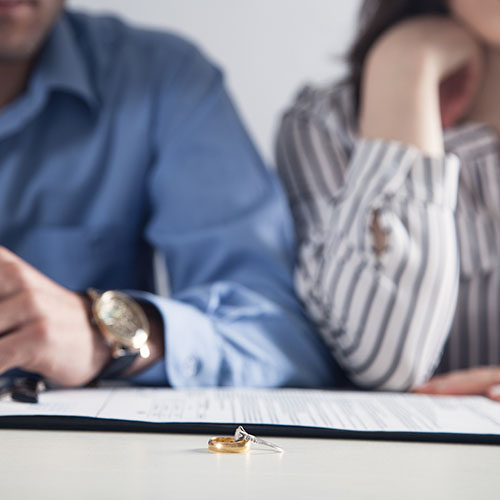 Sandalfoot Cove Family and Marital Law Specialists
Board Certified Sandalfoot Cove Divorce Attorney Tina L. Lewert focuses on marital and family law issues. She is a certified specialist and has the experience and knowledge to help you navigate the legal system and fight for a positive outcome. Tina L. Lewert, is also a Florida Supreme Court Certified Family Law Mediator. This means that she can also help you and your spouse resolve divorcing-related matters and negotiate for an amicable agreement outside of courtrooms.
Divorce cases can be complicated and not always straightforward. Many divorce cases are complicated by issues like child custody or a restraining order. These cases require a skilled and experienced Sandalfoot Cove divorce lawyer who can help you understand the issues and create a plan of action. Tina L. Lewert can resolve a variety of family law matters including:
Tina L. Lewert can help you move forward with your life, regardless of what divorce or family law issue you are facing. To schedule your confidential and free consultation, contact Lewert Law, LLC by calling (561) 544-6861.
Sandalfoot Cove Divorce Attorney: Common Questions When Getting Divorced in Sandalfoot Cove, FL
A Sandalfoot Cove divorce can be a difficult and stressful process. Understanding what you can expect will help you be prepared for each step of the divorce process. This will help you to get through the legal process with confidence and allow you to start living your life again.
Tina Lewert, Lewert Law, LLC is one of the best Sandalfoot Cove divorce lawyers and is board-certified in family and marital law. Our family law practice receives many questions from potential clients who are considering divorcing. We get many questions from prospective clients who are seriously considering getting divorced. Here are some of the top Sandalfoot Cove divorce questions we hear from our clients. Contact Family Law Attorney in Sandalfoot Cove, FL​ today.
How do I get a Divorce in Sandalfoot Cove, Florida?
Florida is considered a "no fault" state when it comes to divorce. The courts do not require proof of adultery or domestic violence, which is what some states require. A spouse may request a divorce and will be granted it regardless of who is responsible for the marital dissolution.

A family court judge will usually require that one of the parties declare that the marriage is "irretrievably damaged" and that reconciliation or counseling cannot save the marriage.
Am I Required to go to Court to get Divorced in Sandalfoot Cove, Florida?
You may be able to avoid court if your marriage is not contested, and you and your soon to-be-former spouse agree on the terms of your divorce. You may instead choose to have a Sandalfoot Cove mediator negotiate your terms. You and your spouse may reach an amicable settlement with a Sandalfoot Cove mediator, rather than in front of the judge.

If you have issues arise such as child custody or alimony, or the division of your assets, then you will need to file for a divorce hearing. Every Sandalfoot Cove family law case differs. The length of your divorce will depend on how complicated your case is and what issues arise.
What is the Average Time it Takes to get a Divorce in Sandalfoot Cove, Florida?
The specific facts of each divorce case will determine the time frame for a Sandalfoot Cove divorce.
In cases of uncontested dissolution, where both the parties have reached an agreement on the division of assets and child support, or any other issue, the process of getting a divorce decree finalized can take up to a matter of weeks.
The process of a Sandalfoot Cove divorce can be lengthy in divorce cases that are contested. A contested divorce can take anywhere between four to six months, or longer. A judge will need to intervene to determine the outcome. The length of a contested divorce process depends on how contentious your case is along with what needs to be decided or divided, and how busy the court happens to be when you go to seek a divorce.
Get in Touch with a Sandalfoot Cove Divorce Lawyer Today
Your future after your marriage may be impacted greatly by your divorce proceedings. You need to hire an experienced Sandalfoot Cove divorce attorney with the knowledge and experience necessary to protect your rights and advocate for you.
Sandalfoot Cove divorce attorney Tina L. Lewert, understands divorce is a sensitive process, but will be able to guide you through the proceedings with a great deal of skill and compassion. Contact Lewert Law, LLC today for expert divorce and family law representation in Sandalfoot Cove, FL. We offer a free and confidential consultation to discuss your Sandalfoot Cove divorce case.
Weather in Sandalfoot Cove, FL
Broken Clouds
About Sandalfoot Cove, FL
Sandalfoot Cove was a census-designated place (CDP) located in an unincorporated area near Boca Raton in Palm Beach County, Florida, United States. The population was 16,582 at the 2000 census. While it is not officially in the City of Boca Raton, the community is frequently classified under its umbrella term.
Things To Do in Sandalfoot Cove, FL
Bus Stops in Sandalfoot Cove, FL to Lewert Law, LLC
Bus Stop in US-441/SR-7 at SANDALFOOT BLVD Sandalfoot Cove, FL to Lewert Law, LLC
Bus Stop in US 441 & Sandalfoot Blvd Sandalfoot Cove, FL to Lewert Law, LLC
Bus Stop in Sandalfoot Blvd & Edgewood Pkwy Sandalfoot Cove, FL to Lewert Law, LLC
Bus Stop in US-441/SR-7 at JUDGE WINIKOFF RD Sandalfoot Cove, FL to Lewert Law, LLC
Bus Stop in US-441/SR-7 at SW 3RD ST Sandalfoot Cove, FL to Lewert Law, LLC
Bus Stop in US-441/SR-7 at PALMETTO PK RD Sandalfoot Cove, FL to Lewert Law, LLC
Bus Stop in LYONS RD at SW 14TH ST Sandalfoot Cove, FL to Lewert Law, LLC
Bus Stop in SW 8TH ST at SW 54TH WAY Sandalfoot Cove, FL to Lewert Law, LLC
Bus Stop in Lyons Rd @ SW 18th St Sandalfoot Cove, FL to Lewert Law, LLC
Bus Stop in SW 18TH ST/MARINA BL at BOCA COVE CR Sandalfoot Cove, FL to Lewert Law, LLC
Bus Stop in US-441/SR-7 at PALMETTO PK RD Sandalfoot Cove, FL to Lewert Law, LLC
Bus Stop in SW 18 St Marina Blvd & US 441 Sandalfoot Cove, FL to Lewert Law, LLC
Reviews for Lewert Law, LLC Sandalfoot Cove, FL